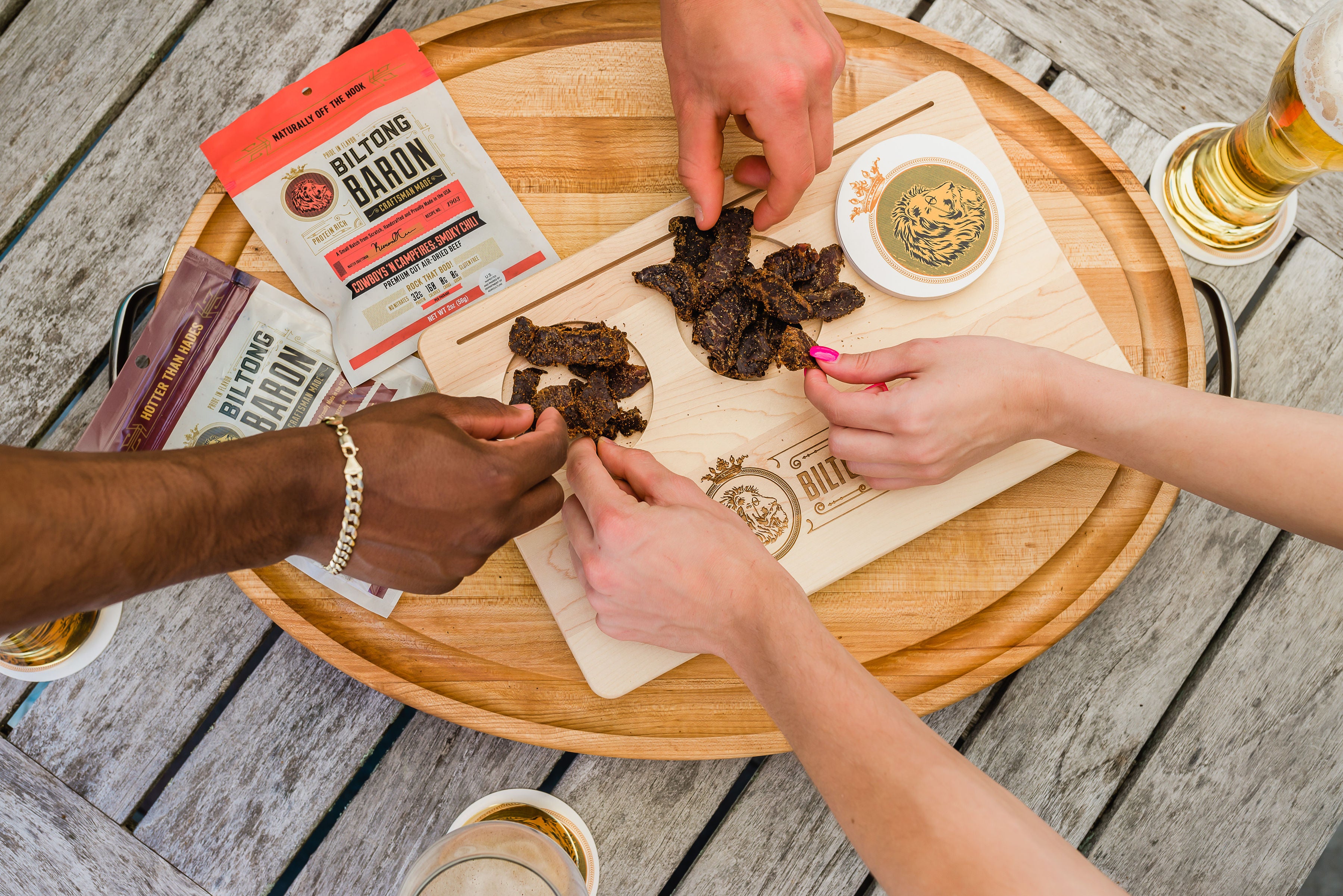 We're the craft beer of meat snacks. But with a way cooler mascot.

Perfect for Keto, Paleo, or Whatevero
Biltong is natural fit for a Keto diet with ZERO carbs and ZERO sugars. We don't have to be sneaky with the math to explain why the abundance of carbs in that "keto" bar is actually 0g of "Net Carbs," Biltong Baron is straight-up NO CARBS, PERIOD. Beef is beef and we only add vinegar, salt and natural spices to make it delicious.  Not to mention, with 32G of pure protein in a single 2-ounce bag, it helps regulate hunger while maintaining ketosis to help you get the most out of your diet without a grumbling stomach. Biltong Baron is also easily packable to help you stick to your diet without your busy lifestyle getting in the way.
When it comes to Paleo and Biltong Baron, you might say we are two peas in a pod, if only peas were allowed on a Paleo diet. Our philosophy of cutting all of the junk that can be found in most beef jerkies and instead, relying on tried and true old-world meat preservation techniques, aligns perfectly with a Paleo lifestyle. Just because we can make a hamburger sit on a shelf for a decade without getting moldy does not mean we should eat that frankensteins creation for the sheer convenience of it. At Biltong baron we've ditched all chemicals, refined sugars, bulking agents and preservatives so you can enjoy a protein-packed snack to satisfy your hunger without having to sacrifice your diet your un-preservative laden insides, or your on-the-go lifestyle.
Just because you're doing an elimination diet doesn't mean you have to give up on flavor and satisfaction. Biltong Baron's four flavor-packed recipes help spice up the 30-day elimination struggle and make for an easy high-protein, on-the-go snack choice.


Our biltong naturally lacks carbohydrates, chemical additives, added nitrates and any other lab-made junk, making it a perfect option for folks who are tackling the Whole-30 challenge. We have nothing to hide and that is why we only use four simple ingredients in our biltong: USDA Beef, vinegar, salt, and spices. We know it's difficult to stay strong when cravings hit, which is why we make it as easy as possible for you to UN-carboload and kick those carbs and sugars to the curb.
If the King of the Jungle were supposed to live off plants, he wouldn't have such big teeth and claws. The invasion of highly processed, refined, and addictive simple carbs and sugars into every single food we eat isn't natural. These addictive concoctions leave you constantly wanting more- we've eaten more than enough "family sized" bags of chips to know it! Kick carbs to the curb with the Baron's highly un-refined biltong. Biltong Baron helps satisfy your cravings with 32g of protein and 0g of carbs per package while providing stable energy throughout the day. Whether you're looking to drop some extra pounds, avoid the blood sugar spikes and crashes, make some gains in the gym, or if you simply love our delicious biltong, we've got you covered!
We've been asked if we're thinking of making vegan jerky out of mushrooms or carrots or other forms of rabbit food.  Here's the thing, have you seen our ferocious carnivore mascot? Besides, just because you're a "morally superior" grass-grazer doesn't mean you can't enjoy the delicious smell of the Baron's Biltong before your friends or family chow down. You can even purchase some as a gift, giving you the perfect excuse to begin your long moral tirade about how much better you are for not partaking in such carnivorous habits!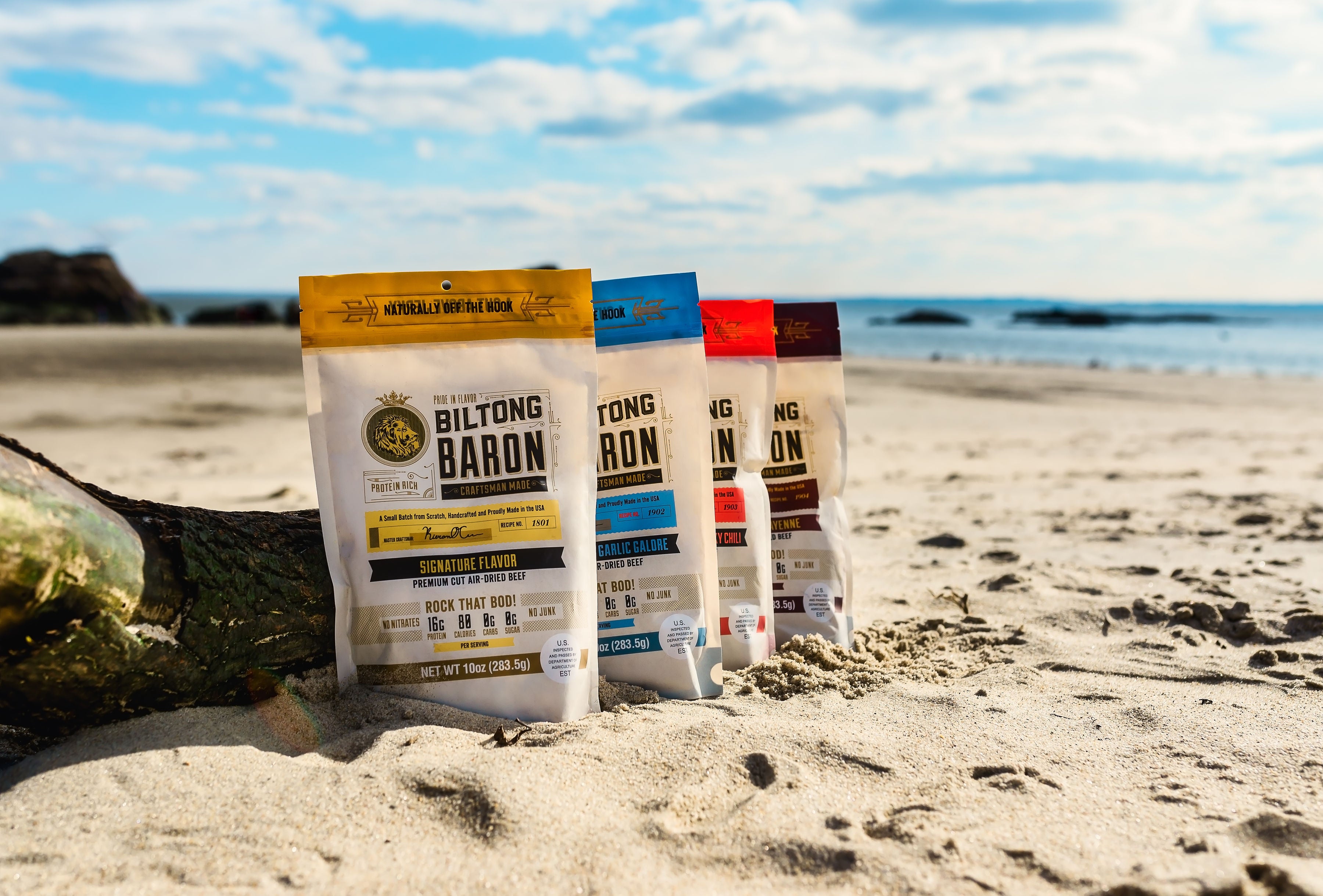 If you can't tell that it's beef, it's probably not biltong
"Super flavorful, nice and tender. Absolutely love this stuff. Will definitely be ordering more!"
-Kevin (one with clearly immaculate taste)
"I thought that I liked beef jerky until I found biltong baron and I discovered my true love…biltong... If you've been on the fence about trying this product- try it TODAY"
- Jacob (who is absolutely not a paid spokesman, we swear)
"So nice to find a good sugar free jerky. This is legit!"
- Jared (an individual of fine discernment)
"Tastes great and it's mostly protein. Other jerky has sugar added for flavor and many times has more carbohydrates than protein."
- Adam (of refined judgement)
"I have made my own biltong for years and this is as close to authentic South African biltong as I have found. Well done."
- A Fan of the Baron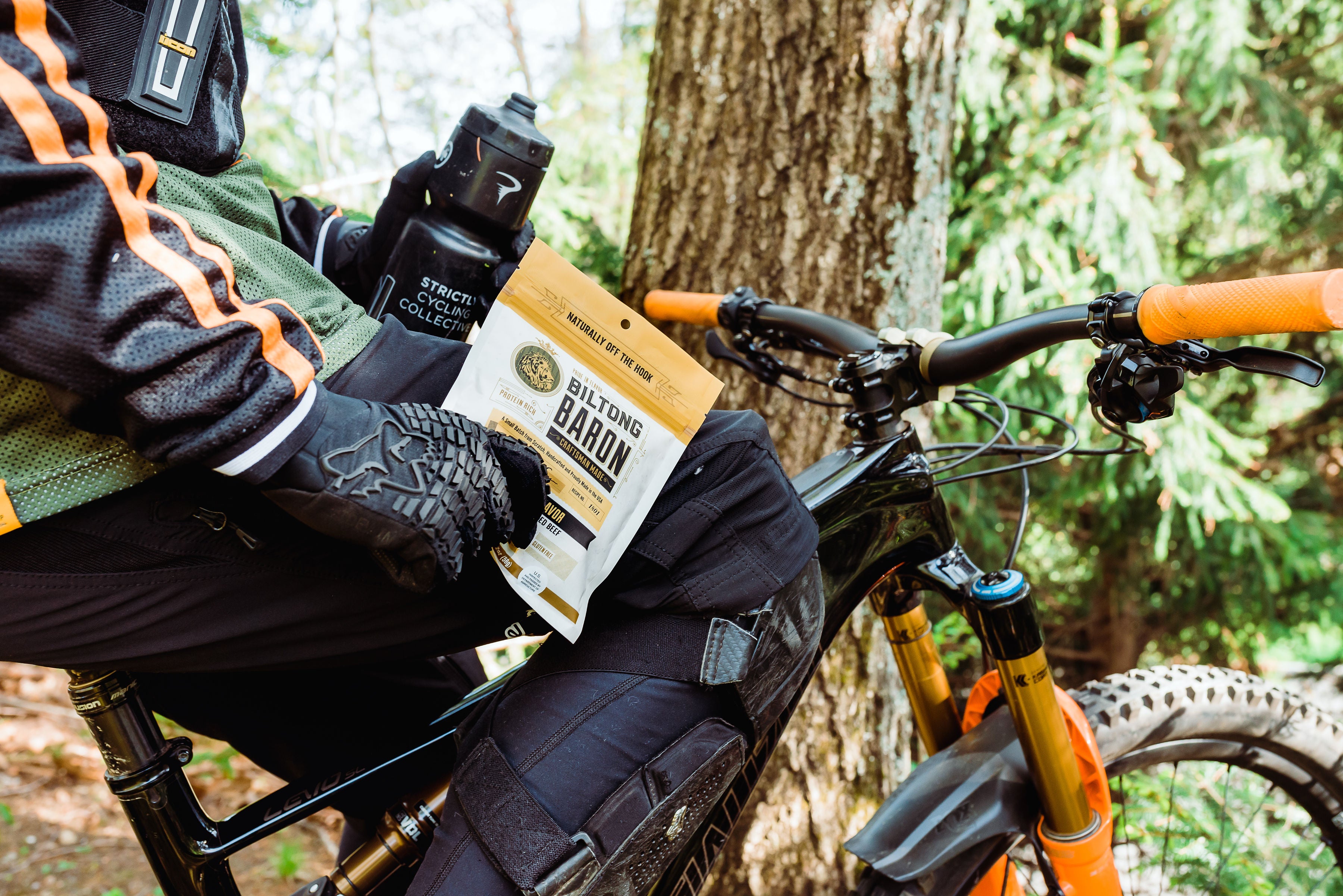 Pity the poor b*stard who snacks on rice cakes