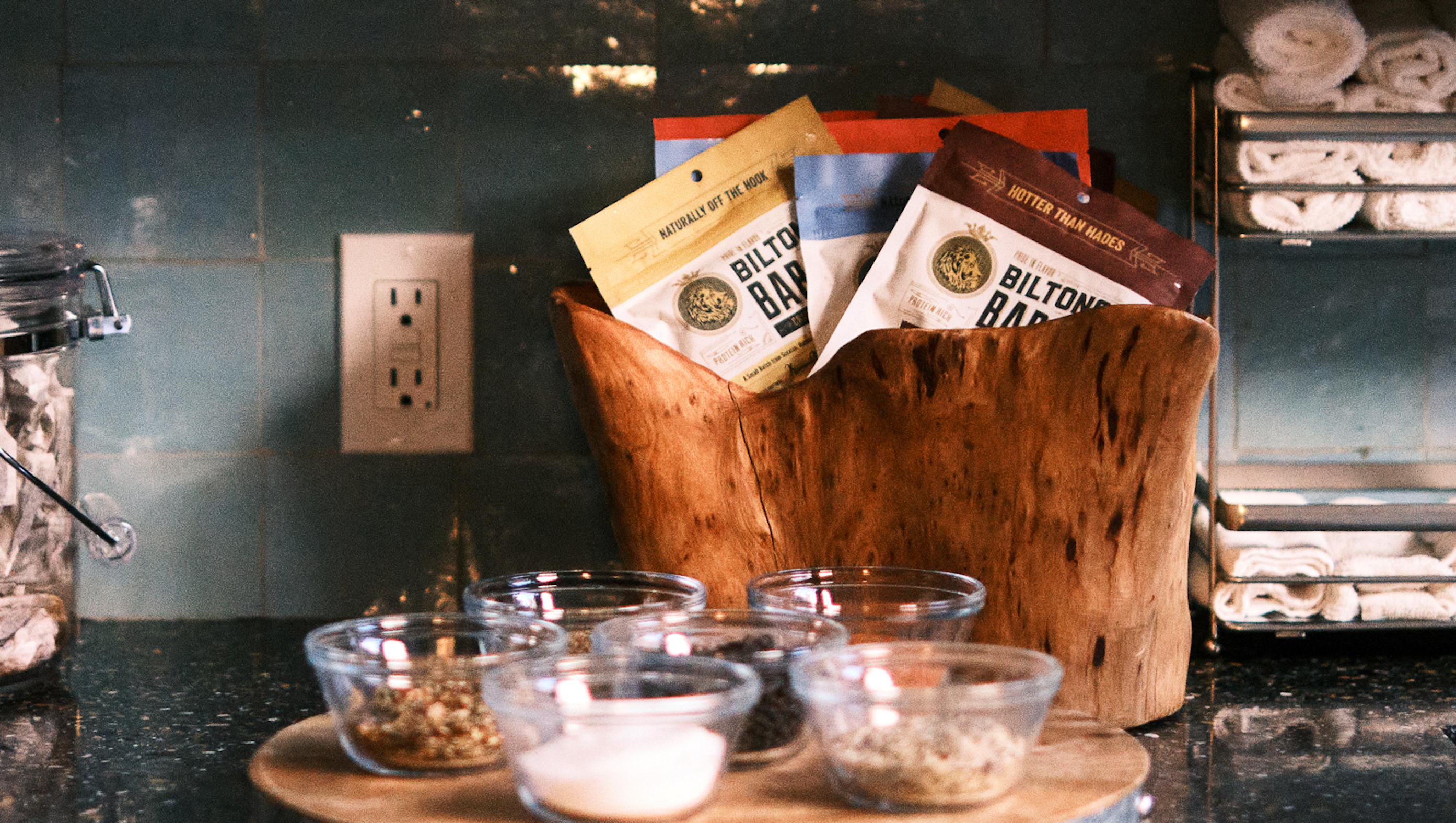 Its not better Jerky, Its the Jerky Beater
Biltong is a South African "better-for-you" version of beef jerky, made with old-world curing techniques and without the artificial preservatives and chemicals found in most beef jerky products. We take premium cuts of all American steak, add vinegar, sea salt and nature's spices, and air-dry it on a hook, much like prosciutto, under the watchful eye of the USDA. This means the Baron's Biltong is not only naturally "off-the-hook" but it also more closely resembles a finely season steak rather than the artificial "beef-like composition" of most beef jerky brands.
Unlike jerky, we do not use any artificial preservatives and nitrates or obscure chemicals in our Biltong. Ounce for ounce, you will not find a better on-the-go protein snack - no bar, shake or bag of nuts can beat biltong.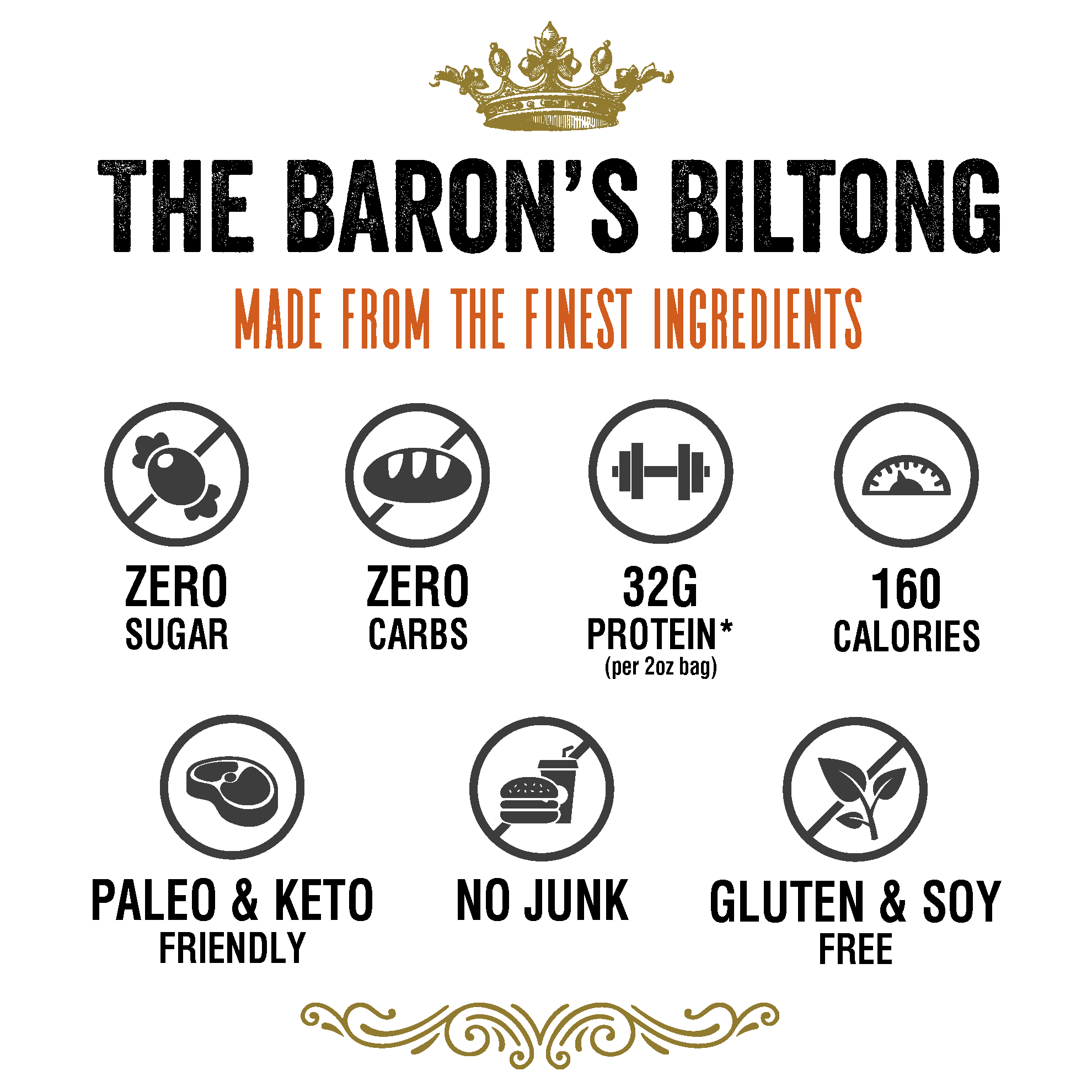 Bypass the Byproducts
The Baron is a busy fellow - running the animal kingdom and all - and he knows just how hard it is to find quality food while on-the-go. That's why he's been uncompromising in creating his biltong, and the numbers speak for themselves. In case you need more convincing, 32g of protein and only 160 calories is the best protein-to-calorie ratio of any snack food on the market. This makes the Baron's Biltong a perfect post-workout snack to maximize your hard earned gains! Besides, don't you think "high-carb meat" should be a total oxymoron?! Our "friends" in the jerky business don't seem to agree. With 0g of carbs and 0g of sugar, our biltong is the perfect snack for a Keto, Paleo, Whole30 and Low-Carb diet.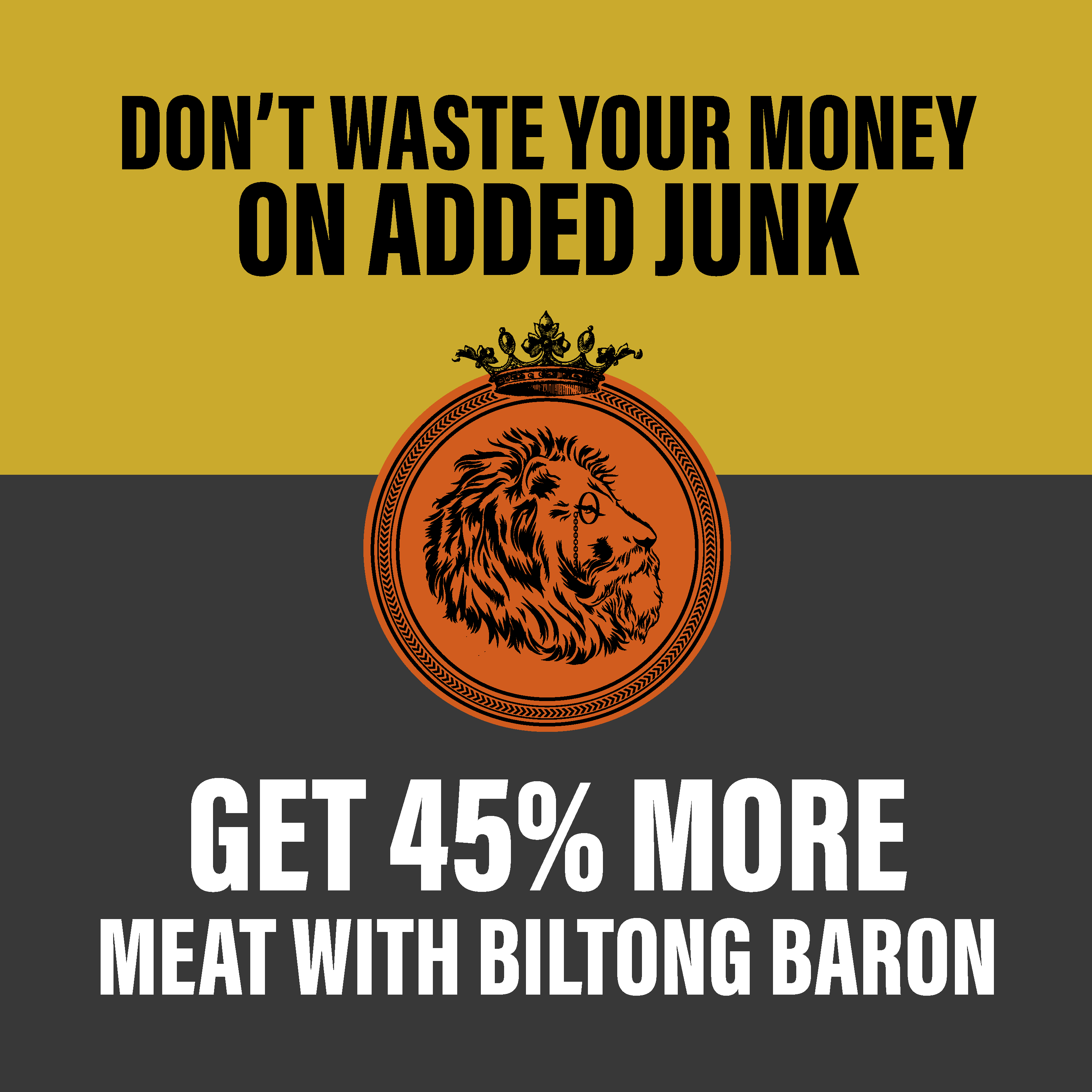 You Heard that right
The Baron's biltong contains up to 45% more pure-meat protein per oz than most jerky brands. If not meat, then what are they adding to their products?  The Baron wondered this too and investigated; He was NOT impressed with what he found: artificial preservatives, sugar, bulking agents, artificial flavorings and other JUNK!
The Baron is an individual of inebriety and honor so he will always make sure you get exactly what you pay for. Our biltong is made using  4oz of high-quality USDA certified steak that goes through a state-of-the-art curing process, removing the excess water and resulting in 2oz of delicious biltong per bag. We cut all of the junk but all of the mighty meaty goodness remains!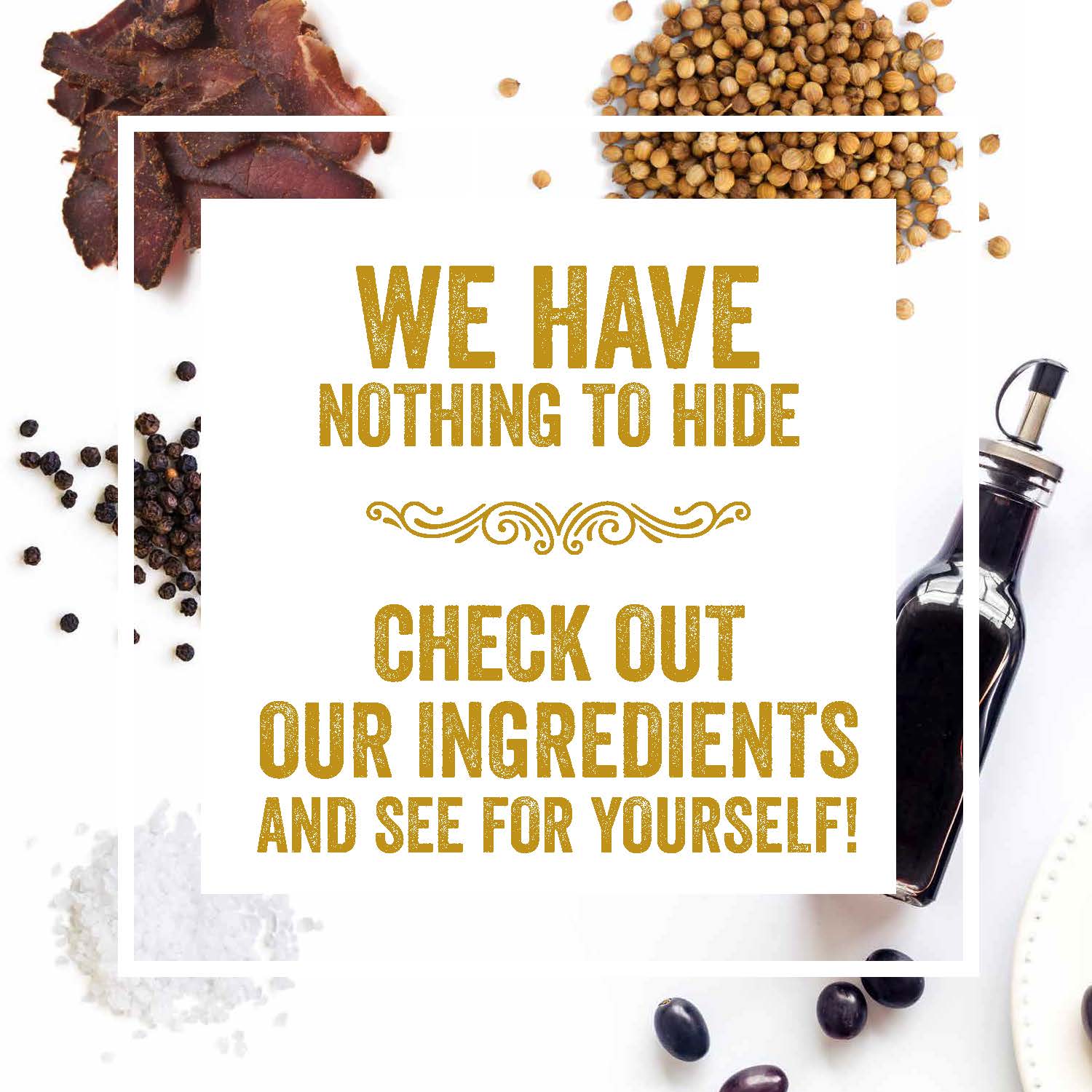 See For Yourself
The Baron's premium biltong is naturally cured in vinegar and seasoned with sea salt, black pepper, and Mother Nature's Spices. All of our ingredients can probably be found in your pantry as we never have any obscure chemicals, artificial additives, MSG, sugar, gluten, or artificial nitrates in our biltong.
We encourage all of our customers to check out our nutrition label and compare us to any other beef jerky or protein snack on the market. We simply request that once you're done googling what hydrolyzed corn protein and maltodextrin are, make smarter choices and put those junky products right back on the shelf where they belong.
Can't Beat The Baron
Ounce for ounce, you can't beat the Baron. The Baron's biltong has 0g sugar, 0g carbs, 32g of protein, only 160 calories and five ingredients per bag. Just to give you an idea of what a lean, mean, protein-powered machine the Baron's Biltong is, we've stacked it up against some of our competitors.
The Baron isn't one to boast but he demands the absolute best from his snacks and believes the numbers speak for themselves. Why would anyone choose an inferior snack when they have the option to choose clean ingredients?

Biltong is natural fit for a Keto diet with ZERO carbs and ZERO sugars. We don't have to be sneaky with the math to explain why the abundance of carbs in that "keto" bar is actually 0g of "Net Carbs," Biltong Baron is straight-up NO CARBS, PERIOD. Beef is beef and we only add vinegar, salt and natural spices to make it delicious.  Not to mention, with 32G of pure protein in a single 2-ounce bag, it helps regulate hunger while maintaining ketosis to help you get the most out of your diet without a grumbling stomach. Biltong Baron is also easily packable to help you stick to your diet without your busy lifestyle getting in the way.
When it comes to Paleo and Biltong Baron, you might say we are two peas in a pod, if only peas were allowed on a Paleo diet. Our philosophy of cutting all of the junk that can be found in most beef jerkies and instead, relying on tried and true old-world meat preservation techniques, aligns perfectly with a Paleo lifestyle. Just because we can make a hamburger sit on a shelf for a decade without getting moldy does not mean we should eat that frankensteins creation for the sheer convenience of it. At Biltong baron we've ditched all chemicals, refined sugars, bulking agents and preservatives so you can enjoy a protein-packed snack to satisfy your hunger without having to sacrifice your diet your un-preservative laden insides, or your on-the-go lifestyle.
Just because you're doing an elimination diet doesn't mean you have to give up on flavor and satisfaction. Biltong Baron's four flavor-packed recipes help spice up the 30-day elimination struggle and make for an easy high-protein, on-the-go snack choice.

Our biltong naturally lacks carbohydrates, chemical additives, added nitrates and any other lab-made junk, making it a perfect option for folks who are tackling the Whole-30 challenge. We have nothing to hide and that is why we only use four simple ingredients in our biltong: USDA Beef, vinegar, salt, and spices. We know it's difficult to stay strong when cravings hit, which is why we make it as easy as possible for you to UN-carboload and kick those carbs and sugars to the curb.
If the King of the Jungle were supposed to live off plants, he wouldn't have such big teeth and claws. The invasion of highly processed, refined, and addictive simple carbs and sugars into every single food we eat isn't natural. These addictive concoctions leave you constantly wanting more- we've eaten more than enough "family sized" bags of chips to know it! Kick carbs to the curb with the Baron's highly un-refined biltong. Biltong Baron helps satisfy your cravings with 32g of protein and 0g of carbs per package while providing stable energy throughout the day. Whether you're looking to drop some extra pounds, avoid the blood sugar spikes and crashes, make some gains in the gym, or if you simply love our delicious biltong, we've got you covered!
We've been asked if we're thinking of making vegan jerky out of mushrooms or carrots or other forms of rabbit food.  Here's the thing, have you seen our ferocious carnivore mascot? Besides, just because you're a "morally superior" grass-grazer doesn't mean you can't enjoy the delicious smell of the Baron's Biltong before your friends or family chow down. You can even purchase some as a gift, giving you the perfect excuse to begin your long moral tirade about how much better you are for not partaking in such carnivorous habits!